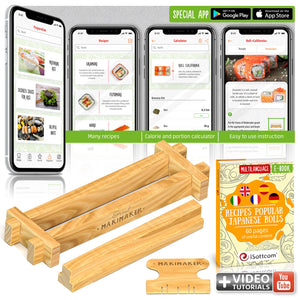 EASY TO USE: No rolling required, our sushi making kit is the easiest way to make sushi. With sushi kit even a beginner will be able to make rolls. Using our sushi maker you can cook sushi rolls with your children for a sushi party.
AN EXCELLENT GIFT IDEA: Unlike sushi making kits made from cheap recycled plastic, our sushi mold is a great chance to present to your friends and loved ones something special. Compact, unusual and useful gift.
CLEAR INSTRUCTIONS: To our sushi making kit is attached a clear step by step instruction. An e-book with recipes of Japanese rolls can be downloaded from our website. In addition, there are videos with examples of cooking different sushi.
HAND MADE: We produce our sushi making kits of high-quality natural material. In fact, sushi maker is an ecological product. Our amazing sushi set is handcrafted.
100 % MONEY BACK: We provide to our customers a lifetime warranty. Our products undergo special manual processing, so our Sushi kit will serve you for years.
Shipping & Delivery
FREE SHIPPING TO: 
United States, Germany.
WE ALSO SHIP TO THESE COUNTRIES:
Albania,
Andorra,
Argentina,
Armenia,
Austria,
Belarus,
Belgium, Brazil, Bulgaria, Canada,
Croatia,
Cyprus,
Czech Republic,
Denmark,
Estonia, Finland,
France,
Georgia,
Greece,
Holy See (Vatican City State),
Hungary, Iceland,
Ireland,
Israel,
Italy,
Japan,
Kazakhstan,
Kosovo,
Latvia,
Liechtenstein, Lithuania,
Luxembourg,
Malta,
Moldova,
Netherlands,
Norway,
Poland,
Portugal, Romania,
Russia,
San Marino,
Serbia,
Slovakia,
Slovenia,
Spain, Sweden,
Switzerland,
Turkey,
Ukraine,
United Kingdom.
NOTE:
- The delivery price for these countries you can find at the checkout.
- When ordering several products, parcels may arrive separately.
- You cannot place an order if in the cart other goods that are not deliver to your country.
FAQs
HOW DO I PLACE AN ORDER?

We accept payments by Credit cards and Debit cards (VISA, MasterCard, American Express, Discover) and PayPal too! 

1) Visit us at www.isottcom.com, and find the item you'd like to order.
2) Click on the item, and then you'll arrive at its product page.
3) Select the color and size you'd like via the drop-down menu
4) Click on the 'Add to Cart' button
5) Simply repeat steps 1-4 above until you've added everything you want to order to your virtual cart.
6) Click on 'Checkout' at the top right corner of the page.
7) Follow the instructions to enter your shipping address, and then your payment details. Do make sure you follow through the whole process by clicking on "Pay now" or "Complete Order" before you close the website. If your order is successful, you will see a page with your Order number. 

HOW SAFE IS YOUR WEBSITE?

All payments are processed by PayPal, which is a very trusted and secure platform. We do not store or have access to any of your credit or debit card details, or passwords. Payments are 100% screened through and processed by PayPal. Also, do check us out on our Instagram page @make_sushi_at_home, where we have more than 400 loyal fans and followers! Thousands of customers have ordered from us and have been satisfied with our level of service and quality.

I HAVE PLACED AN ORDER WHEN WILL MY ORDER BE SHIPPED?

Order processing time is between 1-3 business days and is used to check your order for quality assurance, packing, printing of shipping labels, and forwarding it to our shipping company for dispatch. Once an order has been processed, it will then be shipped out, and a tracking number will be made available to you.
PACKAGES THAT ARE UNCLAIMED/REJECTED/RETURNED
All packages that are refused, unclaimed from the local post office, undeliverable as addressed because you input the wrong name or address when you placed your order, will not be our responsibility. We reserve the right to charge a restocking and shipping fee of 30-50% of an item's value if that happens. So please do remember to check your address carefully when you place an order.

DO YOU ACCEPT RETURNS IF AN ITEM DOES NOT FIT OR I DON'T LIKE IT?
If you are unsatisfied with your purchase, please do drop us an email within 14 days of receiving your order. If you do decide to return it to us, you will either be given store credit or allowed to exchange the returned item for another item of equal or lower value.  
For more information on our return/exchange policy, please visit our 'Refund & Shipping' page by clicking on 'Refund & Shipping policy' at the bottom of any page at isottcom.com

Don't see your question listed here? No worries! Simply drop us an email at support@isottcom.com and we'll do our best to get back to you as soon as we can!
Sushi making kit by iSottcom - a unique technology for easy preparation of rolls and sushi in just a few minutes!
No rolling required!!! All you have to do is "load" Makimaker with ingredients and press.
Makimaker is brilliantly simple, even five-year-old children can handle it. They will be happy to help you prepare culinary masterpieces, developing hand mechanics and creative skills. You will get professional-looking rolls and sushi on your first try! And your joint gastronomic works can be proudly presented to your relatives and friends. Sushi party - is a great idea of joint leisure!
Special mobile app for Android and iOS - Sushi recipes by iSottcom with clear step-by-step instructions, calorie and portion calculator
Only with our product you will receive mobile application Sushi recipes by iSottcom, which allows you to quickly and easily select your favorite recipes, make a list of necessary ingredients for buying and calculate their number based on the number of your guests. There is no need to manually create lists of products or keep them in memory anymore! This will save you money because by choosing the recipes and the number of people you will know the exact weight, nutritional and energetic composition of the products to buy! The list can be easily shared with family and friends with the help of popular messengers and social networks directly from the application. As a gift, you will receive a colorful e-book of recipes with clear step by step instructions. Examples of cooking various rolls you can find on our website or app as well as on Youtube.