Electric Mini Salt and Pepper Grinders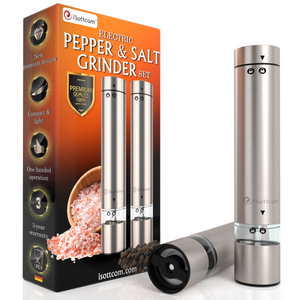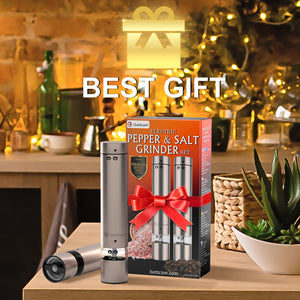 Electric Salt and Pepper Mill

Our Salt and Pepper Grinder Set will replace traditional salt and pepper shakers becoming a nice addition to your kitchen. Restrained, concise design of our Salt and Pepper Mills will spice up your table setting. You will be able to enjoy the flavor of freshly ground pepper, which releases its original rich flavor and a variety of benefits unlike black pepper sold pre-ground Unusual stylish gift for family and friends is sure to create a WOW-effect leaving no one indifferent.
PRODUCT INFORMATION
Product: Electric Salt and Pepper Mill
Trademark: iSottcom
Warranty: 12 months
Item Dimensions, mm: 33х182
Item Weight, gr: 177
Rated Input, W: 18
Capacity, l: 0.06
Design Feature: Battery-operated
Material: Stainless Steal
Country of Origin: China
Color: Silver
DESCRIPTION
Portable, incredibly easy to use, convenient and quiet;
Lightweight, easy to hold
One-handed operation;
button smooth to press (no squeaking sound or getting stuck);
design works for both hi-tech and classic interior);
premium quality stainless steel;
quality ceramic grinder;
adjustable coarseness;
4 AAA Batteries for each mill (not included);
ideal gift box made of premium thick matte cardboard
WHAT'S INCLUDED:
2 Stainless Steel Electric Salt and Pepper Grinders;
Instruction and Performance Manual;
Eye-Catching Gift Box Packaging
FAQs
HOW DO I PLACE AN ORDER?

We accept payments by Credit cards and Debit cards (VISA, MasterCard, American Express, Discover) and PayPal too! 

1) Visit us at www.isottcom.com, and find the item you'd like to order.
2) Click on the item, and then you'll arrive at its product page.
3) Select the color and size you'd like via the drop-down menu
4) Click on the 'Add to Cart' button
5) Simply repeat steps 1-4 above until you've added everything you want to order to your virtual cart.
6) Click on 'Checkout' at the top right corner of the page.
7) Follow the instructions to enter your shipping address, and then your payment details. Do make sure you follow through the whole process by clicking on "Pay now" or "Complete Order" before you close the website. If your order is successful, you will see a page with your Order number. 

HOW SAFE IS YOUR WEBSITE?

All payments are processed by PayPal, which is a very trusted and secure platform. We do not store or have access to any of your credit or debit card details, or passwords. Payments are 100% screened through and processed by PayPal. Also, do check us out on our Instagram page @make_sushi_at_home, where we have more than 400 loyal fans and followers! Thousands of customers have ordered from us and have been satisfied with our level of service and quality.

I HAVE PLACED AN ORDER WHEN WILL MY ORDER BE SHIPPED?

Order processing time is between 1-3 business days and is used to check your order for quality assurance, packing, printing of shipping labels, and forwarding it to our shipping company for dispatch. Once an order has been processed, it will then be shipped out, and a tracking number will be made available to you.
PACKAGES THAT ARE UNCLAIMED/REJECTED/RETURNED
All packages that are refused, unclaimed from the local post office, undeliverable as addressed because you input the wrong name or address when you placed your order, will not be our responsibility. We reserve the right to charge a restocking and shipping fee of 30-50% of an item's value if that happens. So please do remember to check your address carefully when you place an order.

DO YOU ACCEPT RETURNS IF AN ITEM DOES NOT FIT OR I DON'T LIKE IT?
If you are unsatisfied with your purchase, please do drop us an email within 14 days of receiving your order. If you do decide to return it to us, you will either be given store credit or allowed to exchange the returned item for another item of equal or lower value.  
For more information on our return/exchange policy, please visit our 'Refund & Shipping' page by clicking on 'Refund & Shipping policy' at the bottom of any page at isottcom.com

Don't see your question listed here? No worries! Simply drop us an email at support@isottcom.com and we'll do our best to get back to you as soon as we can!