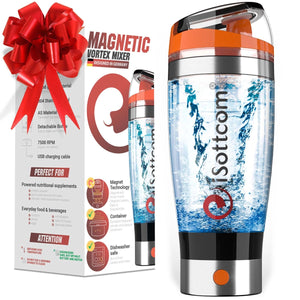 Material: ABS plastic, Tritan, Waterproof, Metal, Silicone
Volume, l: 0.450
Brand: ISottcom
Country of origin: China
The iSottcom Electric Sports Shaker is a unique, trendy sports gadget that combines a stylish sports bottle and a rechargeable mixer for mixing protein shakes. A new, reliable magnetic drive motor and a powerful, rechargeable, magnetic battery pack transform your bright sports mug into a convenient and effective protein shaker in seconds. With an easy-to-carry handle, 100% sealed lid, and built-in protein containers and capsules, the device is extremely versatile and convenient. The bright ergonomic design of our shaker, as well as the demonstration of its work in the gym will not leave anyone indifferent, which makes this sports gadget a desirable gift for men and girls!
Key benefits of our innovative sports nutrition shaker:
PERFECT MIXING IN SECONDS Tired of lumps of undissolved protein and, as a result, digestive problems? Our electric shaker has a powerful motor and a special whisk developed with patented technology, which creates a vortex in the bottle that creates a protein mixture of perfect consistency without disturbing the protein microstructure. You will be surprised how delicious familiar cocktails can be. And the body works like a clock! No discomfort!
CONVENIENT SELF CLEANING SYSTEM Poorly washed sportswear can cause serious poisoning. Our innovative gadget is equipped with a unique self-cleaning system. After use, fill the container with clean water and turn on the mixer. The vortex funnel will clean the device in seconds. Plus, the unique magnetically attached motor and battery technology makes them easy to detach from the sports drink container, making it dishwasher safe, unlike other electric shakers that don't allow the motor to be detached and have intricate internal surfaces that make hand washing difficult. and making the machine impossible.
NO LEAKS Have you ever found the contents of your sports mug in your sports bag? This is not about our gadget. The iSottcom Sports Shaker Cup features a twist-lock lid and a rubber gasket. 100% tightness guaranteed, even on the move!
THE PERFECT GIFT FOR HIM AND FOR HER Our product is developed in Germany. In addition to useful properties, this sports accessory has a bright design and excellent quality, has a high-quality gift wrapping. Turn it on and make sure it has the right WoW effect on those around you! You will be grateful for a useful and bright gift!
EVERYTHING YOU NEED ALWAYS WITH YOURSELF AND IN YOUR PLACES ISottcom Protein Mixer features integrated containers for extra sports powder, capsules and tablets.
UNIVERSALITY ISottcom Sports Mixer is perfect for preparing:
sports mixtures

baby food

a variety of cocktails, smoothies, pancakes

and much more
100% QUALITY AND MONEY BACK The satisfaction of our discerning customers is our top priority. The product has ETC, US and EU certificates. If you do not like our product, there will be problems with its operation, we will refund your money or make a replacement within the warranty period. You don't have to stand in lines and waste your time at service centers!
Become the proud owner of the iSottcom Ergonomic Sports Mixer Shaker!
Add to cart immediately! The quantity of goods is limited.

Equipment:

Sealed sports mug with carry handle; Detachable magnetically driven Tritan whisk motor (10000 +/- 5% RPM); Detachable Lion-battery (800 mAh); Integrated powder container; Integrated container for capsules and tablets; USB cable with light charge indication; Instructions
FAQs
HOW DO I PLACE AN ORDER?

We accept payments by Credit cards and Debit cards (VISA, MasterCard, American Express, Discover) and PayPal too! 

1) Visit us at www.isottcom.com, and find the item you'd like to order.
2) Click on the item, and then you'll arrive at its product page.
3) Select the color and size you'd like via the drop-down menu
4) Click on the 'Add to Cart' button
5) Simply repeat steps 1-4 above until you've added everything you want to order to your virtual cart.
6) Click on 'Checkout' at the top right corner of the page.
7) Follow the instructions to enter your shipping address, and then your payment details. Do make sure you follow through the whole process by clicking on "Pay now" or "Complete Order" before you close the website. If your order is successful, you will see a page with your Order number. 

HOW SAFE IS YOUR WEBSITE?

All payments are processed by PayPal, which is a very trusted and secure platform. We do not store or have access to any of your credit or debit card details, or passwords. Payments are 100% screened through and processed by PayPal. Also, do check us out on our Instagram page @make_sushi_at_home, where we have more than 400 loyal fans and followers! Thousands of customers have ordered from us and have been satisfied with our level of service and quality.

I HAVE PLACED AN ORDER WHEN WILL MY ORDER BE SHIPPED?

Order processing time is between 1-3 business days and is used to check your order for quality assurance, packing, printing of shipping labels, and forwarding it to our shipping company for dispatch. Once an order has been processed, it will then be shipped out, and a tracking number will be made available to you.
PACKAGES THAT ARE UNCLAIMED/REJECTED/RETURNED
All packages that are refused, unclaimed from the local post office, undeliverable as addressed because you input the wrong name or address when you placed your order, will not be our responsibility. We reserve the right to charge a restocking and shipping fee of 30-50% of an item's value if that happens. So please do remember to check your address carefully when you place an order.

DO YOU ACCEPT RETURNS IF AN ITEM DOES NOT FIT OR I DON'T LIKE IT?
If you are unsatisfied with your purchase, please do drop us an email within 14 days of receiving your order. If you do decide to return it to us, you will either be given store credit or allowed to exchange the returned item for another item of equal or lower value.  
For more information on our return/exchange policy, please visit our 'Refund & Shipping' page by clicking on 'Refund & Shipping policy' at the bottom of any page at isottcom.com

Don't see your question listed here? No worries! Simply drop us an email at support@isottcom.com and we'll do our best to get back to you as soon as we can!