Reserva Electric Wine Opener Set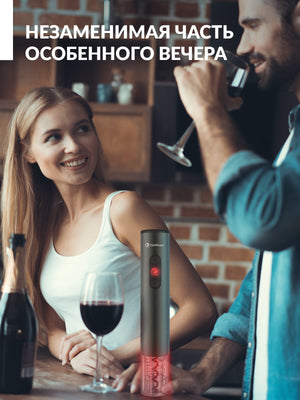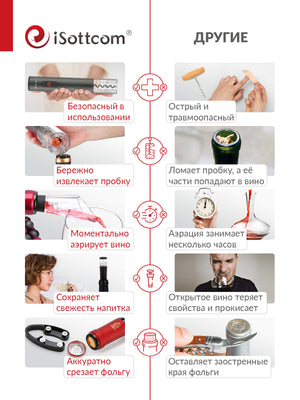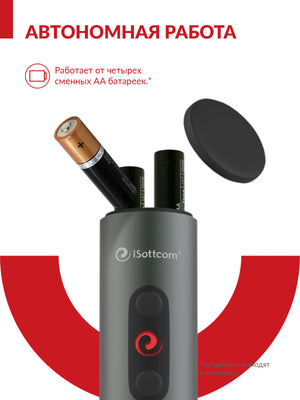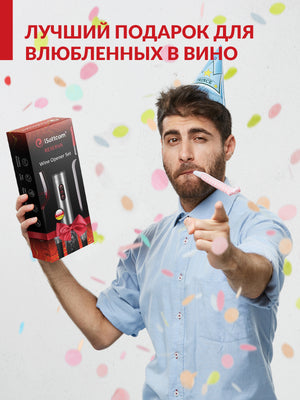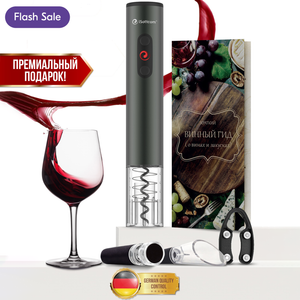 Reserva Electric Wine Opener Set

Gorgeous Design. The corkscrew has got a modern design, attractive LED- indicator light when the cork being drawn up from the bottle.
4 in 1. Everything you need in one set: elegant electric corkscrew, foil cutter, aerator with DROP STOP wine pourer system, wine saver vacuum stopper. User Manual will recommend perfect serving and drinking temperature and the right wine to match certain snacks.
A luxury gift idea. Awesome bright gift box and impeccable quality of the materials and assembly that is proved by the quality control tests and guaranteed by the manufacturer – a German Company Vymana GmbH (Hamburg, Germany), makes this snazzy Electric Wine Opener, undoubtedly the most impressive present for wine buffs! Drink wine properly, turning the whole process into a real treat, taking in the aroma of each sip, savoring the aftertaste, so that you can truly appreciate its flavor. Wine guide is included!

So easy to use
The aerator has 2 purposes. The basic one is immediate exposure of wine to air. The aerator is divided into 4 channels due to the cross-shaped structure inside it, which accelerates oxidation and evaporation even more and enhances the bouquet of a wine leaving behind the sulfites and other compounds. It also serves as anti-drop pouring spout due to its convenient design and easily fits into the neck of every bottle.
Wine Saver Vacuum Stopper will come in handy and preserve the taste and aroma of your wine if you haven't finished the bottle! Just place the stopper into the neck of the bottle and remove the air by using a push and pull action until all the air is out of the bottle that is until you feel resistance. It is best to store wine in a chiller or a fridge and take it out about an hour before serving.
PRODUCT INFORMATION
Trademark: iSottcom
Warranty: 12 months
Product Diamensions, mm: 45*250
Product Weight, g: 620
Design Features: Battery-operated
Material: Plastic
Country of Origin: China
Color: Grey, Silver, Stainless Steal
Speed Settings: 1
PRODUCT SPECIAL FEATURES
Automatic Electric Wine Bottle Opener iSottcom Reserva with an aerator, foil cutter and wine saver vacuum stopper, user manual with wine and snacks pairing tips – excellent gift for wine connoisseurs!
PRODUCT SPECIAL FEATURES
Electric Wine Bottle opener
Wine Foil Cutter
Aerator
Wine Saver Vacuum Stopper
User manual with Wine and Snacks Tips
Power Source - 2хААА (not included), or a rechargeable battery
FAQs
HOW DO I PLACE AN ORDER?

We accept payments by Credit cards and Debit cards (VISA, MasterCard, American Express, Discover) and PayPal too! 

1) Visit us at www.isottcom.com, and find the item you'd like to order.
2) Click on the item, and then you'll arrive at its product page.
3) Select the color and size you'd like via the drop-down menu
4) Click on the 'Add to Cart' button
5) Simply repeat steps 1-4 above until you've added everything you want to order to your virtual cart.
6) Click on 'Checkout' at the top right corner of the page.
7) Follow the instructions to enter your shipping address, and then your payment details. Do make sure you follow through the whole process by clicking on "Pay now" or "Complete Order" before you close the website. If your order is successful, you will see a page with your Order number. 

HOW SAFE IS YOUR WEBSITE?

All payments are processed by PayPal, which is a very trusted and secure platform. We do not store or have access to any of your credit or debit card details, or passwords. Payments are 100% screened through and processed by PayPal. Also, do check us out on our Instagram page @make_sushi_at_home, where we have more than 400 loyal fans and followers! Thousands of customers have ordered from us and have been satisfied with our level of service and quality.

I HAVE PLACED AN ORDER WHEN WILL MY ORDER BE SHIPPED?

Order processing time is between 1-3 business days and is used to check your order for quality assurance, packing, printing of shipping labels, and forwarding it to our shipping company for dispatch. Once an order has been processed, it will then be shipped out, and a tracking number will be made available to you.
PACKAGES THAT ARE UNCLAIMED/REJECTED/RETURNED
All packages that are refused, unclaimed from the local post office, undeliverable as addressed because you input the wrong name or address when you placed your order, will not be our responsibility. We reserve the right to charge a restocking and shipping fee of 30-50% of an item's value if that happens. So please do remember to check your address carefully when you place an order.

DO YOU ACCEPT RETURNS IF AN ITEM DOES NOT FIT OR I DON'T LIKE IT?
If you are unsatisfied with your purchase, please do drop us an email within 14 days of receiving your order. If you do decide to return it to us, you will either be given store credit or allowed to exchange the returned item for another item of equal or lower value.  
For more information on our return/exchange policy, please visit our 'Refund & Shipping' page by clicking on 'Refund & Shipping policy' at the bottom of any page at isottcom.com

Don't see your question listed here? No worries! Simply drop us an email at support@isottcom.com and we'll do our best to get back to you as soon as we can!