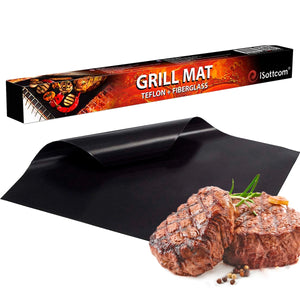 Type: Baking mat
Teflon: material
Article: 0661094572547
Country of origin: China
Brand: 

ISottcom

Package weight, g: 100
The iSottcom Grill Mat will keep your favorite grill perfectly clean. With it, it will look completely new. No more messy grills that are so inconvenient to clean. Our grill mat is ideal for cooking meats, vegetables, steaks, hamburgers, shrimp, pizza, eggs, beans and many dishes that you could never cook on a conventional wire rack. In addition, our mat preserves sauces and marinades by preventing them from dripping down through the grate, and eliminates fires caused by dripping grease on hot coals.
Grill mat is made of refractory fiberglass and is coated with Teflon on both sides. Unlike other cheap non-stick mats, the iSottcom rug is 0.30mm thick and can withstand temperatures up to 300 ° C without burning or warping. Heat passes through it and spreads evenly.
The reusable grill mat can be used on any type of grill: coal, electric and gas, as well as in the oven. You can cut your grill mat to a convenient size and shape and use it as a non-stick coating on a baking sheet, oven, and even a frying pan!
Due to the non-stick coating, dishes cooked on such a rug do not stick or burn. It will become an indispensable assistant in the preparation of culinary masterpieces on the grill and not only ...
Just place the iSottcom non-stick mat on the grill. This will prevent small pieces from falling through the grates.
The non-stick grill and barbecue mat is very easy to clean. After use, leftover food can be wiped off with a soft, damp cloth and rinsed under the tap. You can also use a dishwasher. With proper care, grill mats can be used over and over again. It is easy to store when rolled up and does not take up much space!
To extend the life of our rug, just follow these simple rules: do not bend, crush, or expose the rug to direct fire!
Tired of cleaning the grates, skewers and barbecues? Love even, controlled cooking? Do you appreciate the pleasure and comfort of your grilling? If these questions have positive answers for you, Grill mat iSottcom is your find!
Order now! The number of promotional items is limited.

Equipment
Non-stick Grill & BBQ Mat
FAQs
HOW DO I PLACE AN ORDER?

We accept payments by Credit cards and Debit cards (VISA, MasterCard, American Express, Discover) and PayPal too! 

1) Visit us at www.isottcom.com, and find the item you'd like to order.
2) Click on the item, and then you'll arrive at its product page.
3) Select the color and size you'd like via the drop-down menu
4) Click on the 'Add to Cart' button
5) Simply repeat steps 1-4 above until you've added everything you want to order to your virtual cart.
6) Click on 'Checkout' at the top right corner of the page.
7) Follow the instructions to enter your shipping address, and then your payment details. Do make sure you follow through the whole process by clicking on "Pay now" or "Complete Order" before you close the website. If your order is successful, you will see a page with your Order number. 

HOW SAFE IS YOUR WEBSITE?

All payments are processed by PayPal, which is a very trusted and secure platform. We do not store or have access to any of your credit or debit card details, or passwords. Payments are 100% screened through and processed by PayPal. Also, do check us out on our Instagram page @make_sushi_at_home, where we have more than 400 loyal fans and followers! Thousands of customers have ordered from us and have been satisfied with our level of service and quality.

I HAVE PLACED AN ORDER WHEN WILL MY ORDER BE SHIPPED?

Order processing time is between 1-3 business days and is used to check your order for quality assurance, packing, printing of shipping labels, and forwarding it to our shipping company for dispatch. Once an order has been processed, it will then be shipped out, and a tracking number will be made available to you.
PACKAGES THAT ARE UNCLAIMED/REJECTED/RETURNED
All packages that are refused, unclaimed from the local post office, undeliverable as addressed because you input the wrong name or address when you placed your order, will not be our responsibility. We reserve the right to charge a restocking and shipping fee of 30-50% of an item's value if that happens. So please do remember to check your address carefully when you place an order.

DO YOU ACCEPT RETURNS IF AN ITEM DOES NOT FIT OR I DON'T LIKE IT?
If you are unsatisfied with your purchase, please do drop us an email within 14 days of receiving your order. If you do decide to return it to us, you will either be given store credit or allowed to exchange the returned item for another item of equal or lower value.  
For more information on our return/exchange policy, please visit our 'Refund & Shipping' page by clicking on 'Refund & Shipping policy' at the bottom of any page at isottcom.com

Don't see your question listed here? No worries! Simply drop us an email at support@isottcom.com and we'll do our best to get back to you as soon as we can!