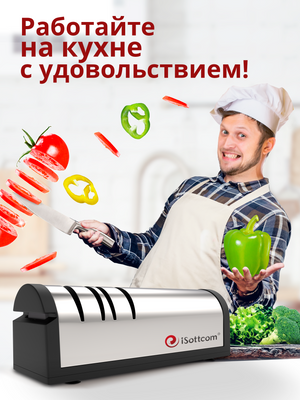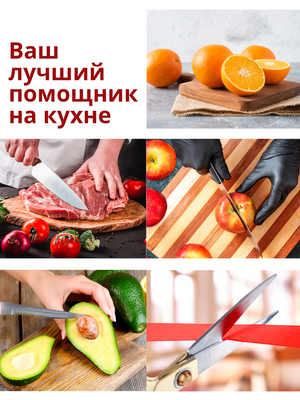 Electric knife sharpener
Sottcom Premium Electric Knife Sharpener is your best bet if you need razor-sharp knives.
What makes it stand out is its compact and sleek, cutting-edge design, so that it will definitely take pride of place in the kitchen.
The electric knife sharpener is made of top-quality materials. It has 2 different phases:
Coarse grind setting. Diamond-coated grinding wheel sharpens the blade;
Fine setting. Ceramic rod hones and strops or polishes the blade.
Sharp knives are safe and fun to use! iSottcom pull-through knife sharpener is super easy to use for beginners. It has rigid, precision-angled slots to orient the blade and ensure your knife is sharpened at the right angle. It's virtually impossible to mess up the sharpening process. It features non-slip silicone feet, which can be securely fixed on the work surface so you don't have to worry about it moving around as you sharpen your knives. Its comprehensive instruction manual explains each step clearly, and its sturdy construction suggests that you can expect many years of performance.
Main features and benefits:
Product Quality. High quality control and standards are achieved and maintained at each stage of manufacture, including the choice of material and sharpening technology;
Kitchen shears and scissors sharpener;
Built-in covered compartment that catches all the grinding dust and makes cleanup a breeze
USB charging makes it possible to take the knife sharpener with you when going to your country house or getting out into the great outdoors
All the special features together make our electric knife sharpener reliable, fast and handy, capable of bringing inexpensive knives back from butter-knife dullness to one-stroke tomato-slicing sharpness with effortless ease!
PRODUCT SPECIAL FEATURES
Type: electric cutter
Brand: iSottcom
Warranty period: 2 years
Cord length, m: 0,5
Dimensions, mm: 220 x 66 x 77
Product weight, g: 600
Design Features: Auto power off
Case material: ABS plastic, Steel
Abrasive material: Corundum
Power, W: 8
Country of origin: China
Color: Silver, black
FAQs
HOW DO I PLACE AN ORDER?

We accept payments by Credit cards and Debit cards (VISA, MasterCard, American Express, Discover) and PayPal too! 

1) Visit us at www.isottcom.com, and find the item you'd like to order.
2) Click on the item, and then you'll arrive at its product page.
3) Select the color and size you'd like via the drop-down menu
4) Click on the 'Add to Cart' button
5) Simply repeat steps 1-4 above until you've added everything you want to order to your virtual cart.
6) Click on 'Checkout' at the top right corner of the page.
7) Follow the instructions to enter your shipping address, and then your payment details. Do make sure you follow through the whole process by clicking on "Pay now" or "Complete Order" before you close the website. If your order is successful, you will see a page with your Order number. 

HOW SAFE IS YOUR WEBSITE?

All payments are processed by PayPal, which is a very trusted and secure platform. We do not store or have access to any of your credit or debit card details, or passwords. Payments are 100% screened through and processed by PayPal. Also, do check us out on our Instagram page @make_sushi_at_home, where we have more than 400 loyal fans and followers! Thousands of customers have ordered from us and have been satisfied with our level of service and quality.

I HAVE PLACED AN ORDER WHEN WILL MY ORDER BE SHIPPED?

Order processing time is between 1-3 business days and is used to check your order for quality assurance, packing, printing of shipping labels, and forwarding it to our shipping company for dispatch. Once an order has been processed, it will then be shipped out, and a tracking number will be made available to you.
PACKAGES THAT ARE UNCLAIMED/REJECTED/RETURNED
All packages that are refused, unclaimed from the local post office, undeliverable as addressed because you input the wrong name or address when you placed your order, will not be our responsibility. We reserve the right to charge a restocking and shipping fee of 30-50% of an item's value if that happens. So please do remember to check your address carefully when you place an order.

DO YOU ACCEPT RETURNS IF AN ITEM DOES NOT FIT OR I DON'T LIKE IT?
If you are unsatisfied with your purchase, please do drop us an email within 14 days of receiving your order. If you do decide to return it to us, you will either be given store credit or allowed to exchange the returned item for another item of equal or lower value.  
For more information on our return/exchange policy, please visit our 'Refund & Shipping' page by clicking on 'Refund & Shipping policy' at the bottom of any page at isottcom.com

Don't see your question listed here? No worries! Simply drop us an email at support@isottcom.com and we'll do our best to get back to you as soon as we can!