Waffle maker iSottcom, electric, for Viennese and Belgian waffles, 12 x 9 cm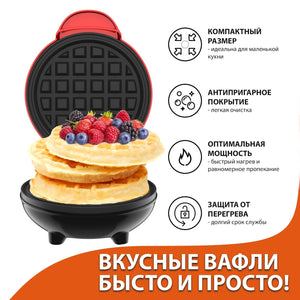 MAX. NUMBER OF SERVINGS: 1 
WORK SURFACE MATERIAL: Teflon
POWER, W: 350
DESING FEATURES: Non-stick coating
ADJUSTMENTS AND CONTROLS: Thermostat
BODY MATERIAL: ABS plastic
CORD LENGTH, M: 0.8
COLOUR: Red
Protection systems

overheat protection
Equipment
Waffle iron, instruction
Description
Make delicious waffles in minutes with the iSottcom Waffle Maker.
Two non-stick surfaces with a diameter of 10 cm ensure an even cooking of the waffles, resulting in a perfectly round waffle for every serving.
The mini waffle maker is a dream come true for people who love compact and lightweight appliances. It can be easily stored anywhere and even taken with you on a visit. The cooking process can be fun for both adults and children! The waffle maker is for everyone who loves a stack of waffles for dessert. Especially suitable for lovers of homemade waffles. Not that tasteless parody of waffles that you can buy in the store, but real homemade, sweet, aromatic waffles, hot, especially if they are supplemented with a delicious filling of cream, whipped cream or fruits. This is a great electric mini waffle maker that will help you make flavorful, tasty, crunchy waffles in just a few minutes. It is very easy to prepare waffles, even a first grader can handle this business. And for this you just need to - pour a portion of the dough into the waffle iron, close the lid and after a few minutes get the finished waffle. All that remains is to sprinkle them with chocolate or fruit sauce, or garnish with cream, whipped cream and fresh berries. Yes, this is a real holiday. And such a holiday can be arranged for yourself and your loved ones every day, and every morning - waffles are prepared quickly, so preparing a breathtaking breakfast takes only a few minutes.
You can add blueberries or chocolate chips directly to the dough. The heat causes them to melt in the batter to create a delicious waffle for you. And the taste and aroma will not leave anyone indifferent! This is why people love mini waffle makers.
The iSottcom Mini Waffle Maker is easy to use. You just need to connect the device, wait for optimal heating, which will be indicated by the light indicator. And its compact size and optimal power will not cause hassle with storage and will help save energy.
FAQs
HOW DO I PLACE AN ORDER?

We accept payments by Credit cards and Debit cards (VISA, MasterCard, American Express, Discover) and PayPal too! 

1) Visit us at www.isottcom.com, and find the item you'd like to order.
2) Click on the item, and then you'll arrive at its product page.
3) Select the color and size you'd like via the drop-down menu
4) Click on the 'Add to Cart' button
5) Simply repeat steps 1-4 above until you've added everything you want to order to your virtual cart.
6) Click on 'Checkout' at the top right corner of the page.
7) Follow the instructions to enter your shipping address, and then your payment details. Do make sure you follow through the whole process by clicking on "Pay now" or "Complete Order" before you close the website. If your order is successful, you will see a page with your Order number. 

HOW SAFE IS YOUR WEBSITE?

All payments are processed by PayPal, which is a very trusted and secure platform. We do not store or have access to any of your credit or debit card details, or passwords. Payments are 100% screened through and processed by PayPal. Also, do check us out on our Instagram page @make_sushi_at_home, where we have more than 400 loyal fans and followers! Thousands of customers have ordered from us and have been satisfied with our level of service and quality.

I HAVE PLACED AN ORDER WHEN WILL MY ORDER BE SHIPPED?

Order processing time is between 1-3 business days and is used to check your order for quality assurance, packing, printing of shipping labels, and forwarding it to our shipping company for dispatch. Once an order has been processed, it will then be shipped out, and a tracking number will be made available to you.
PACKAGES THAT ARE UNCLAIMED/REJECTED/RETURNED
All packages that are refused, unclaimed from the local post office, undeliverable as addressed because you input the wrong name or address when you placed your order, will not be our responsibility. We reserve the right to charge a restocking and shipping fee of 30-50% of an item's value if that happens. So please do remember to check your address carefully when you place an order.

DO YOU ACCEPT RETURNS IF AN ITEM DOES NOT FIT OR I DON'T LIKE IT?
If you are unsatisfied with your purchase, please do drop us an email within 14 days of receiving your order. If you do decide to return it to us, you will either be given store credit or allowed to exchange the returned item for another item of equal or lower value.  
For more information on our return/exchange policy, please visit our 'Refund & Shipping' page by clicking on 'Refund & Shipping policy' at the bottom of any page at isottcom.com

Don't see your question listed here? No worries! Simply drop us an email at support@isottcom.com and we'll do our best to get back to you as soon as we can!